news
national
institution
Tec de Monterrey and Canada want to increase student mobility
The Ambassador of Canada visited Tec de Monterrey to strengthen student exchange partnerships between Mexico and Canada.
Graeme C. Clark, the Ambassador of Canada, visited Tec de Monterrey with the aim of strengthening reciprocal academic links between Mexico and Canada and expanding internationalization opportunities for students and graduates.
"The issue of reciprocity is one of the great challenges in the Mexico-Canada relationship," mentioned the diplomat, who noted that he was pleasantly surprised by students' ability and quality during his talk with them, saying:
"The students revealed both their high ability and the quality of their learning. You could see they were very well prepared."
He also met with Tec directors. They spoke about the opportunities to improve relations between both countries through education, and ways to increase reciprocal student exchange and benefits for both parties.
Tec and Canada united through internationalization 
During his visit to Tec de Monterrey, Graeme C. Clark met with directors of the institution, including David Garza, Rector and Executive President of the Tec, who expressed his interest in expanding internationalization.
"Our Vision for 2030 is focused on innovation and entrepreneurship for human flourishing, which is why we seek to emphasize the 3i's: Innovation, Investigation, and Internationalization," said the rector.
"The Tec is a very high-level and high-quality product. We need to work to attract more Mexicans to Canada." - Graeme C. Clark
Juan Pablo Murra, Rector of Undergraduate and Graduate Studies, said the Tec is an institution from society and for society, whose global vision since its inception has been and will continue to be very important.
The Tec's directors talked about Canada's importance in the university's exchange programs. They agreed that it has a fundamental role to play in the Tec's internationalization plans.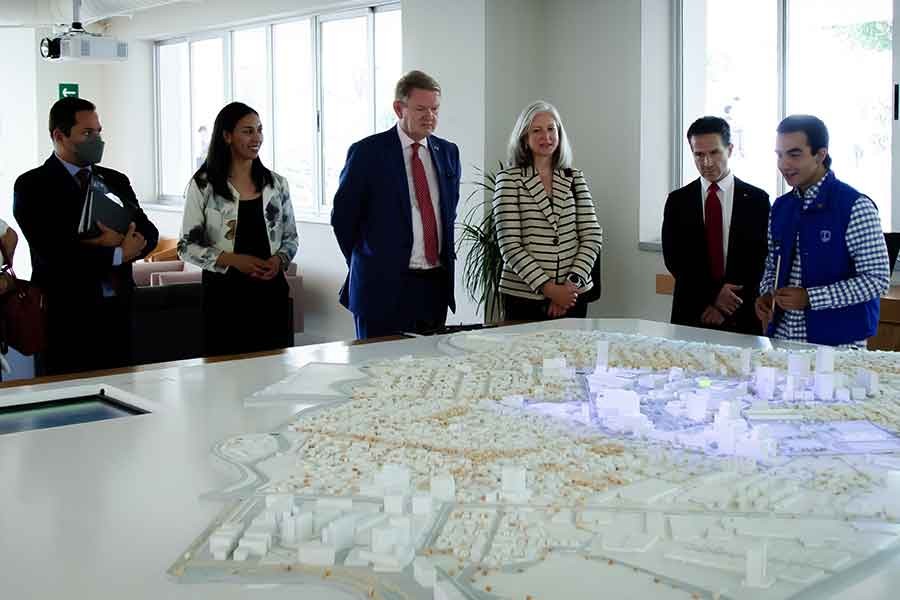 As of today, the Tec holds 25 exchange agreements with Canadian educational institutions. From 2017 to 2022, there was student mobility of 2,276 young people between the two countries. Just over 1,900 are Mexicans who traveled to Canada, while 365 Canadians came to study at the Tec.
What's more, there were research collaborations with 59 Canadian institutions and 276 joint publications in the period 2016-2021.
When talking about this, Consul General of Canada in Monterrey Sandra Shaddick, who accompanied Ambassador C. Clark, highlighted the importance of more Canadian students coming to the Tec.
"We need more Canadians to experience Tec de Monterrey's 25 campuses across Mexico."
Clark also reiterated the quality of the Tec, saying: "The Tec is a very high-level and high-quality product, with extraordinary facilities, and we need to work harder to attract more Mexicans to Canada and facilitate this experience."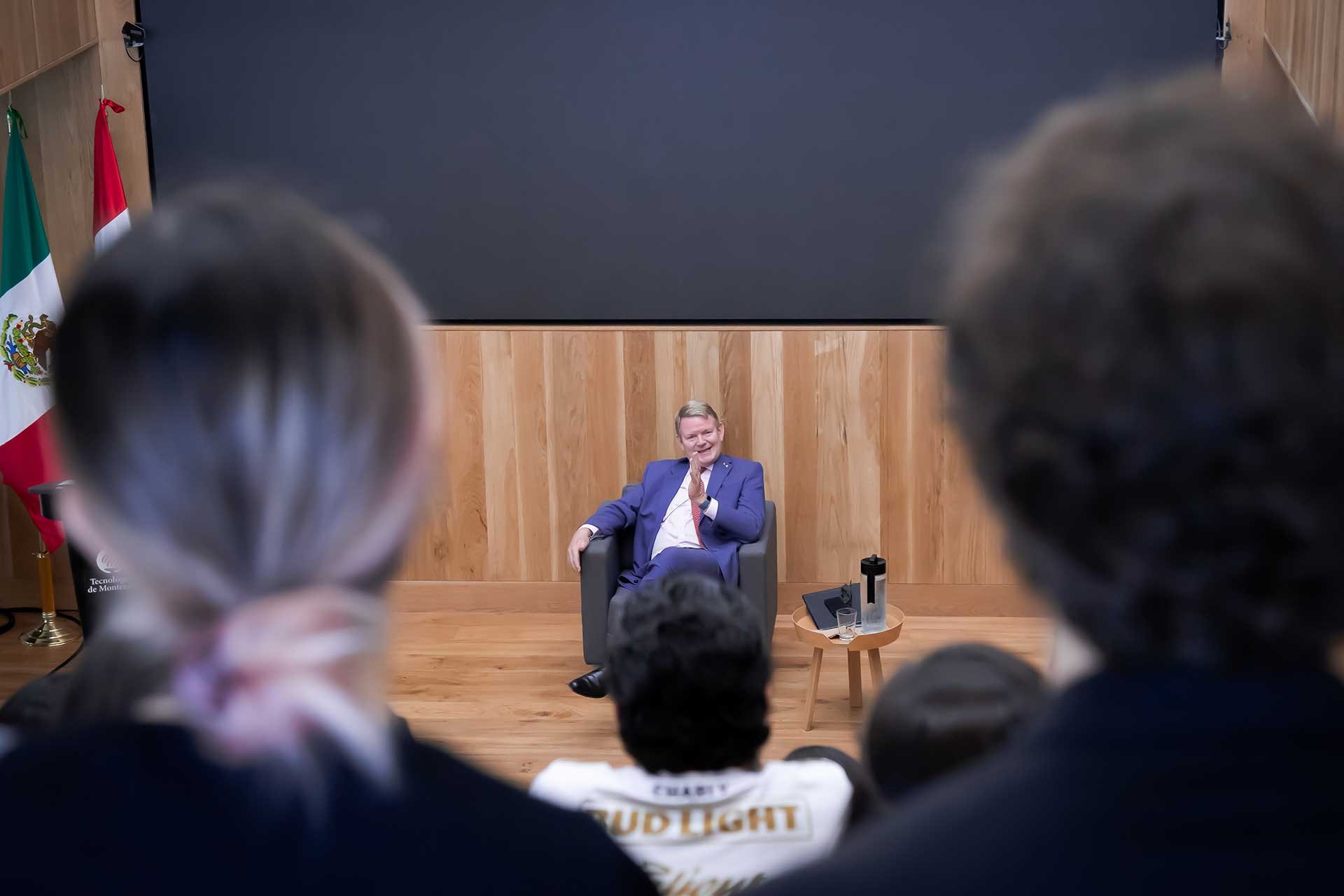 Relations with North America
The diplomat spent time with students on the Bachelor's Degree in International Relations (LRI) and spoke with them about the role of Canada and Mexico in building a more resilient North America.
During his talk, he discussed importation, exportation, migration, and sustainability issues within the North American region, putting special emphasis on Canada and the United States.
"You must think about the contribution you can make to your country in order to create a hemisphere and a world that works better," said the ambassador.
During his talk, Clark stressed that it's an advantage for both countries to be close to the United States. However, he asked students to consider internationalizing more and not just focusing on North America, saying:
"You must take advantage of the opportunity to be a bridge with Latin America, with countries that share your history, agriculture, and culture; this can create many possibilities and opportunities in different regions."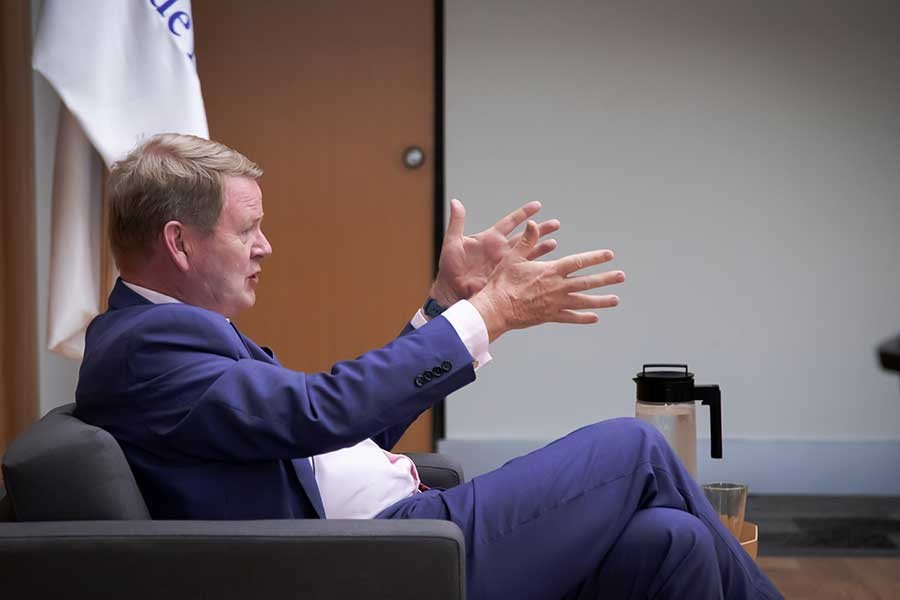 During the visit from the Ambassador of Canada, David Garza was accompanied by Ignacio de la Vega, Executive Vice Rector for Academic Affairs, Faculty and Internationalization, and José Manuel Páez, Vice Rector for Internationalization.
Also present were Nathán Wolf, Director of Strategic International Relations, Carlos Lugo, Strategic International Relations manager, and Juan Pablo Murra.
The delegation visited MOSTLA, the Tec's Emerging Educational Technologies Laboratory; Distrito Tec; and the Rector's Building Mural, in addition to chatting with International Relations students and Canadians who are currently participating in an exchange at the Monterrey campus.
YOU'LL ALSO WANT TO READ
Seleccionar notas relacionadas automáticamente
1